Update for The Electric Highway 2020
In the last week, COVID-19 has been declared a global pandemic and the situation has escalated to an unprecedented scenario for all of us. With the potential health risks, the current travel restrictions, border closures, social distancing measures, venue closures and uncertainty as to when these will be removed, we are unable to proceed with The Electric Highway as planned in April.
We apologize for the inconvenience this will cause and are looking at potential options to rebook the Festival. Please hang on to your tickets and passes. You will be able to use them for rescheduled dates. If you prefer, you can use them for a future festival date. If you have any questions, please do not hesitate to contact us at theelectrichighwayfestival@gmail.com. If you purchased tickets or passes via the festival store, watch for an email from us in the next few days with more details.
We appreciate your understanding and support. We will be leaving the main festival event up on Facebook. Please watch the event, The Electric Highway Facebook page or www.TheElectricHighway.ca for further updates.
~The Electric Highway
_________________________________________________________________________
In regard to the rapidly evolving COVId-19 situation, the Alberta government has enacted a ban on events of 250 people or more and any with international attendees. We are unsure of how long this will continue and if it will affect The Electric Highway Festival. We are gathering more information and are looking at what our options are. Please be patient as we work through this complicated situation. Watch our page and website for more information. We will post updates as we have them.
~ The Electric Highway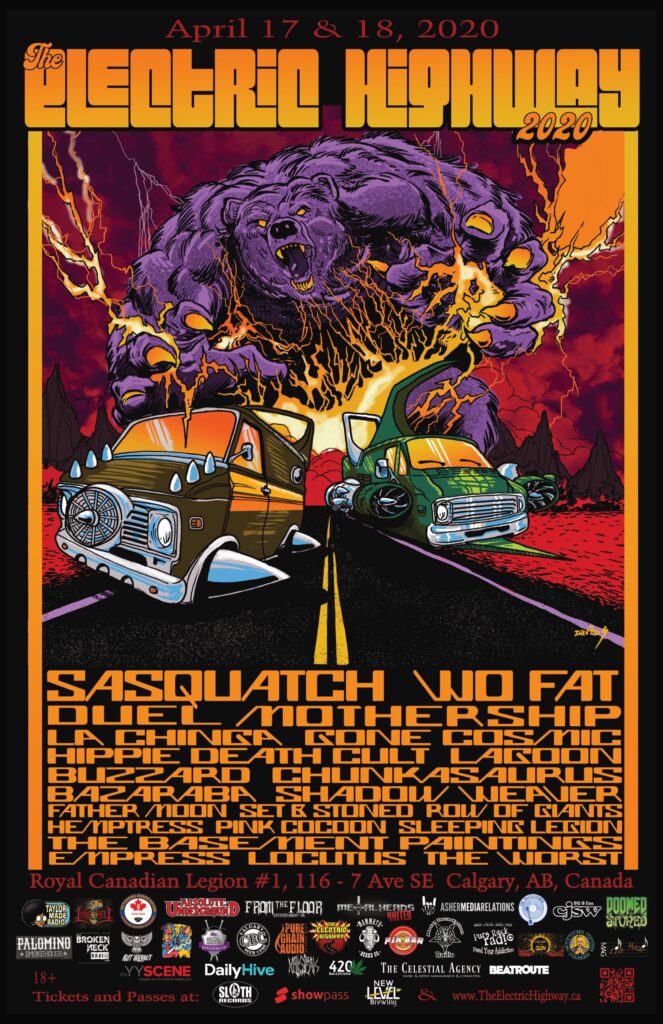 Festival Passes and Single Day tickets are available.
Grab yours HERE.
—————————————-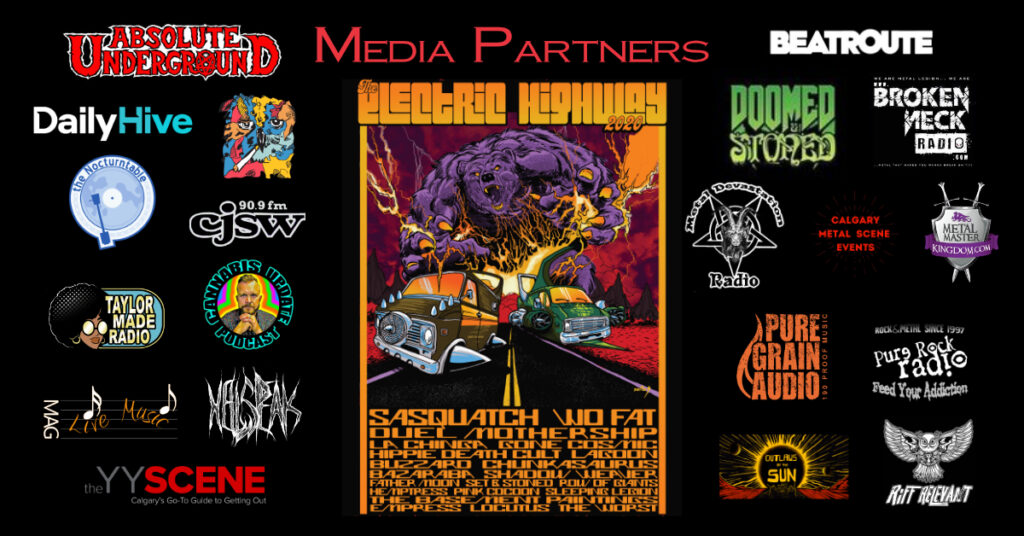 Huge thank you to all our Media Partners! These ar the publications that help make the festival happen. Go to the sponsor page to link to all of them!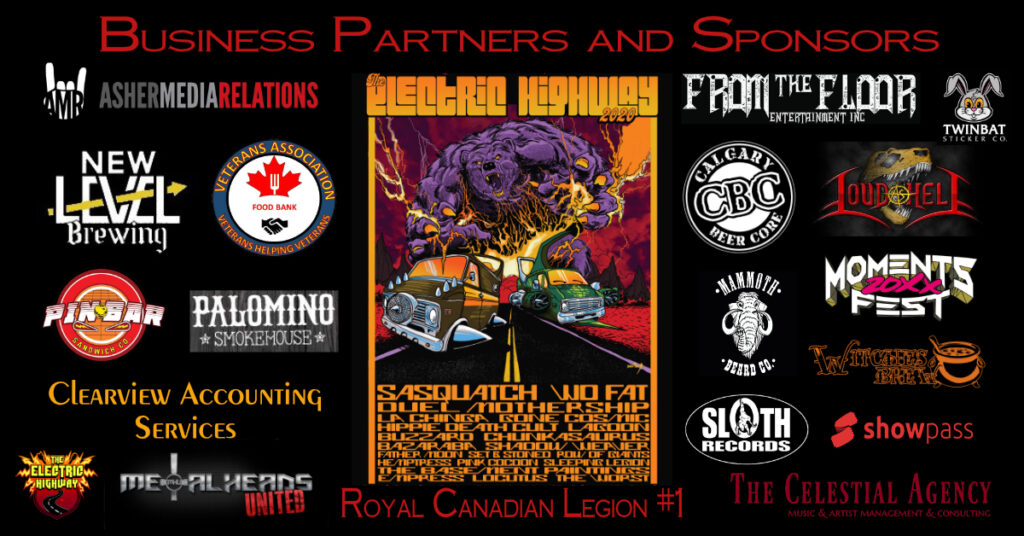 Thank you to our Sponsors and Business Partners! We definitely could not do this without all of you! Go to the Sponsor Page to link to all of them.
It's Line-up Time!
#BuckleUp baby, The Electric Highway is excited to announce our inaugural lineup! We wanted to put something special together for our first trip on the Highway and with over 20 bands in two daze, we think we have done exactly that…
Day One, Friday, April 17th Wo Fat from Dallas, Texas will be returning with their brand of Psychedelic Heavy Blues to headline night one, and we are flying in their bro's in DUEL to share the stage with them that night too! Also laying waste to Friday night are BC's Buzzard & CHUNKASAURUS, coming all the way from Portland, Oregon we have Hippie Death Cult & LáGoon, joining us from Montreal is PINK COCOON, and representing our amazing local scene will be Father Moon, Locutus, Row of Giants and The WORST.
Then on Day Two, Saturday, April 18th bringing the fuzz from California, we are STOKED AF to welcome back the mighty Sasquatch to headline our whole party. As for the rest of Saturday, it just wouldn't be a party without Vancouver's La Chinga on the bill, along with local faves Gone Cosmic, Bazaraba, and Shadow Weaver from Calgary, Crossfield, Alberta's Set & Stoned, Hemptress from Kamloops, BC, The Sleeping Legion from Winnipeg and rounding out our first lineup, from Saskatoon, The Basement Paintings.
The Electric Highway is taking place at the Royal Canadian Legion #1 in downtown Calgary, AB, Canada on April 17 & 18, 2020. Tickets go on sale at 10am MDT on Tuesday, November 5, 2019 at https://theelectrichighway.ecwid.com/.
Facebook: The Electric Highway
Instagram: www.instagram.com/TheElectricHighway
Twitter: www.twitter.com/TheElectricHwy
Website: www.TheElectricHighway.ca
The Electric Highway 2020 —> www.facebook.com/events/1346173098884903/
The Electric Highway Kickoff Party—> www.facebook.com/events/809469542830729/
The Electric Highway Pinball Tournament —> www.facebook.com/events/2408742202725992/
The Electric Highway Arts Expo & Market —> www.facebook.com/events/476224713238363/
#BuckleUp
"All Roads Lead to the Electric Highway"
After careful consideration, we have decided to change the name of the festival to The Electric Highway. When we came up with the concept for the festival in the fall of 2016, legalization was only an idea and we had no idea what impact that would have on our festival. One would think that legalization would be positive, however, it has been more of a headache and hindrance for the festival on many levels. Between FB permanently shutting down some of our ad accounts to cumbersome government-imposed rules and regulations limiting what we could do, and various other limitations standing in our way, we made the decision to change.
The festival will still have the same focus and overall format in a new venue – Royal Canadian Legion #1 – in downtown Calgary. The art expo and marketplace will be fully integrated into the festival. We will continue to bring in great music acts from Canada, the US and around the world. We can focus on the growth of the festival without being limited in any way and still provide all our guests with a great experience.
Be sure to follow the page——> The Electric Highway and share it with others. Watch for the launch of the website coming soon as well as early bird passes going on sale soon and the announcement of the full festival line up within the next few weeks. We look forward to continuing this journey with you on The Electric Highway!
www.facebook.com/ElectricHighwayFestival/
www.instagram.com/TheElectricHighway
www.TheElectricHighway.ca – Coming soon
Special thanks to Mike Calhoun of Sketchy Intuitions for doing an amazing job creating our new logo. (He was the artist behind the Year 2 Sasquatch poster.) He definitely went above and beyond on this and we are so grateful
April 2020!!
We are pleased to announce that we have found a new home for the 2020 Edition of the Festival!
We are taking the festival to a whole New Level, April 17 & 18, 2020 at the Royal Canadian Legion #1. The historic #1 Legion is located right in the heart of downtown Calgary, Alberta at #116, 7th Ave SE. The #1 Legion has amazing C-Train access, cheap underground parking and is surrounded by hotels of every level. The #1 Legion also gives us two rooms that can feature music, three bars to keep you hydrated and full restaurant service. There is also a large space for the vendor expo too. Everything we have ever wanted all under one roof! Super EXCITED and more news brewin' too…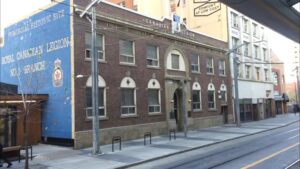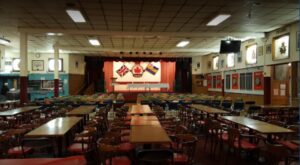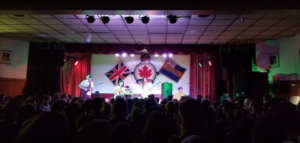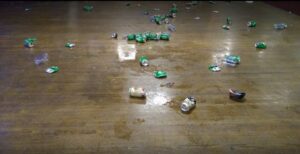 ______________________________________________________________________________